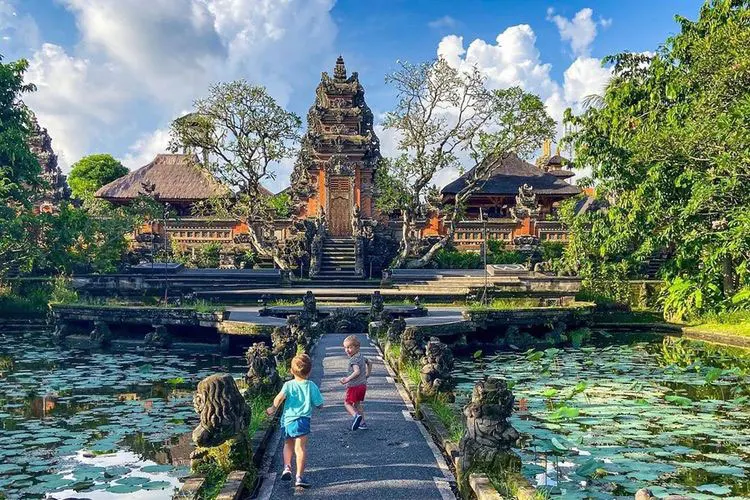 Ubud is a vibrant city that combines the traditional Balinese way of life with an exciting, youthful atmosphere that makes for the perfect holiday. Ubud is located in the cultural capital of Bali, Ubud and has been voted by National Geographic as one of the most beautiful places on earth. Not like busy areas such as Kuta or Seminyak, Ubud dotted with Hindu temples and shrines are some of Bali's most famous landscapes.
This part of the island offers you a gems trove of cultural landmarks. There are plenty of things to do in Ubud, from walking through the valley at Bukit Campuhan to chasing the countless hidden waterfalls. Here is the complete guide of things to do and things you need to know when you are in Ubud.
1. Why Ubud is So Famous
Known as Bali's cultural capital, Ubud is the ultimate place to enjoy various traditional performances, such as the notoriously famous Kecak fire dance and local youths playing gamelan in the town hall.  You can catch one of these performances anywhere, from the Royal Palace to restaurants and public places. Ubud also has various activities from rafting to swinging, or catching waterfall to rice fields walk. Here you can easily find many palaces and temples that attest to the town's significance as a religious and cultural center.
2. How To Get Around in Ubud
If you want to enjoy Ubud and its surroundings, renting a motorbike is key. You might find traffic crazy if you take a car, as many locals rely on their motorbikes to get around. You can rent one for as little as IDR 50,000 per day — it's a small price to pay to explore this part of Bali in your own time!
GoJek or Grab does not seem to be welcome here in Ubud, but it really depends on the areas you are going to. For long-distance transport inside Ubud, renting a motorbike is more affordable than using any ride-sharing service. But if you're planning to travel outside Ubud, renting a car with a private driver is a more effective way to travel.
3. Famous temple to visit in ubud
In addition to being a cultural center for Bali, Ubud is a contemporary art hub. The artists in the city have the most avant-garde pieces that stray from Bali's ancient cultural aesthetic. If you're looking for something more modern, check out these locales!
Goa Garba Temple
Goa Garba Temple is an ancient cave temple located in Pejeng, Gianyar. This temple was built in the 12th-century and is one of the oldest archaeological sites in Bali. This peaceful hidden gem is situated in the lush green forest, a perfect getaway from the usual tourist crowd of Ubud.
Saraswati Temple
Sarasvati Temple is located in the center of Ubud town. This beautiful temple is easily accessed from the main road of Jalan Kajeng side street. The main attraction of this temple is it has classical Balinese architecture and is surrounded by blooming lotuses in its pond.
Pura Dalem Temple
Pura Dalem Temple also well known as Pura Dalem Agung Padangtegal is located inside the Monkey Forest. This temple in Balinese reliance is used for worshiping the gods of death, the Durga Goddess, and the god Hyang Widhi in the personification of Shiva, the Recycler or Transformer.
Puri Saren Agung
Well known as Ubud's historical heritage, Puri Saren Agung also known as Puri Ubud was the residence of the king of Ubud, Tjokorde Gede Agung Sukawati. This castle is easy to find as its situated on the main road of Ubud. In addition, this cultural heritage also has a stunning attraction of Balinese traditional dance such as Legong dance and Kecak Dance.
Goa Gajah Temple
Translated as the 'Elephant Cave', Goa Gajah is one of the famous tourist attractions in Ubud. This archaeological site has a temple complex that overlooks the Pakerisan Temple and a carved stone cave that was used as a meditation site for Buddhist and Shivaite priests.
Pura Puseh Batuan
Pura Puseh Batuan is an Ancient 11th century Hindu Temple situated in the Batuan Village. This beautiful temple is famous for its five-tiered Candi Bentar gateway leads into multiple thatched-roof shrines, featuring the statues of Trimurti's Gods, The Brahma, Vishnu, and Shiva. In the opposite of the temple, there are local artists displaying their paintings, batik, and bas relief sculptures as well.
4. Silver and Gold Center Near in Ubud
Right after Batubulan Village which will be bound to pass on the way to Ubud village, there is Celuk Village that is well known for the gold and silver handicrafts that are available around this area with reasonable price.
Right after Batubulan Village, you'll encounter the Celuk Village — it's a popular tourist stop for both locals and tourists. They love to buy silver and gold jewelry because of the reasonable price. The area is lined with workshops and galleries, so it's a common highlight on tour itineraries to the central region.
Here's what you need to know: the neighbourhood is home to a wealth of galleries and workshops, many run by the local community. Many visitors from the surrounding areas (Ubud, Kintamani) come here for these artisans' wares. It's bustling but not too busy, and the vendors are always happy to strike up a conversation with tourists.
Gold and silver crafted in Celuk have a reputation for being the most exquisite in the country, with intricate designs created by master artisans. Some of the most famous Gold and Silver centres in Celuk are UC Silver Gold, Gold and Silver Smith, Bara Gold and Silver, and many more.
5. Things To Do in Ubud at Night
The nightlife scene in Ubud is unlike any other in Bali. What makes this town so special isn't just the people, but the culture that permeates through it. The traditional dances and music shows coupled with the beautiful scenery of Bukit Campuhan offer adventurers a unique experience of culture and nature. Ubud has a special kind of magic: one that you'll only come to understand after staying for a few days. Here are some of the best things to do in Ubud at night:
Watch Traditional Dance
You won't want to miss the stunning, cultural performances at the Puri Saren Royal Palace. Watch as dancers wear elaborate traditional clothing and perform breathtaking dances. The performance starts at 7:00 in the evening, and is complimented by beautiful gamelan orchestras. With beautiful royal architecture, the Puri Saren Royal Palace will leave tourists in awe.
Enjoy Night Spa
After a long day in Ubud, nothing is more soothing and magical than getting a Balinese massage, manicure or pedicure. You'll go home all loose and happy, feeling relaxed and ready for whatever tomorrow has in store for you. The famous Spa in Ubud offers a wide selection of massages, making it easy to choose the one that's just right for you. Some of the famous spas in Ubud such as Reflexology Bali and Nail Salon Ubud offer you exquisite services!
Dinner at Restaurant
The vibes of Ubud nature make it the perfect location for a romantic dinner with a stunning view. Cascades Restaurant is perfectly located on the ridge overlooking the luscious Valley of the Kings. Provides a dining experience with a tropical valley view alongside delicious food and cocktails.
Enjoy Ubud's Traditional Night Market
Head to Bali's Night Market if you're looking for mouth-watering local food that won't cost the earth. If you love fried stuff, the Night Market is a must! You'll find everything from banana fritters to fried tofu on offer, and if it's local food you're after, this is one place where you can try lots of Balinese dishes that are both cheap and excellent.
Explore Ubud at Night
If you are getting bored in your villa or hotel room, you can just go out there and walk through the streets and explore the beauty of Ubud night. You can also have a few drinks in a local bar such as Nomas Ubud or Bali Spirit.
If you're feeling restless, get out of that villa and walk through the streets – the beauty of Ubud is worth experiencing. You can also have a drink at a bar like Nomas Ubud or Bali Spirit, and if you're lucky, you might find yourself in one of those mythical places where magic happens.
6. Visit Monkey Forest
Why Monkey Forest Should Be On Your Bali Bucket List. Monkey Forest is the place to be if you're keen to get up close and personal with these adorable primates. The forest is the perfect natural habitat for 600 monkeys, and its 12.5 hectares of greenery is home to more than 100 species of plants and trees. It's a fantastic opportunity for tourists, as most visitors rarely get the chance to see wild monkeys in their own habitat.
Inside the Sacred Monkey Forest, you'll find 3 main temples: Dalem Agung Padangtegal Temple, Holy Spring Temple, and Prajapati Temple. These temples are present for the local community to worship. Regardless of your own personal beliefs, check out these sacred spots for a glimpse of Bali's unique history and culture.
7. Visit Best Chinese Restaurant in Ubud (Golden monkey Ubud)
It's always a good idea to be prepared for anything when traveling. And if you're heading to Ubud and you're craving Cantonese cuisine, your best bet is Golden Monkey Ubud! Their extensive menu offers all sorts of traditional Cantonese dishes such as steamed dim sum and delicate Peking duck. These should definitely be on your "hit" list when you come to Ubud!
Located in the centre of Ubud town, Golden Monkey Ubud is everyone's favourite and most famous Chinese Restaurant in Bali. You can indulge your taste buds with delicious Chinese barbecue and speciality meat dishes such as Semi Grilled Strip Loin with Signature Oriental Sauce. It also serves a wide range of vegetarian food. Come for the weekend, and try the All-You-Can-Eat Dim Sum Brunch. The delectable Chinese Dim Sum is available every Saturday and Sunday from 11:30 am until 3 pm.
8. Visit Waterfall Near Ubud
The waterfalls near Ubud are a must-do for travelers in Ubud. You can travel to a maximum of one hour and ten minutes away from the heart of Ubud to find these waterfalls. Here is a list of the stunning waterfalls near Ubud!
Tibumana Waterfall
Situated only 15 km away from, Tibumana Waterfall is one of the most stunning waterfalls to explore on the island. The entrance fee is only IDR 15,000 per each person including parkir fee. The hike down to the waterfall is easily accessible and takes no longer than 15 minutes. A perfect getaway for your next family adventure.
Leke – Leke Waterfall
if you like something more a bit touristy, Leke – Leke Waterfall is truly a hidden gem for all the travellers. You can enjoy the hike down as the path is well maintained but you need to be careful especially when it's the rainy season. The waterfall itself consists of one cascade flowing down into the pool.
Kanto Lampo Waterfall
Only 30-minute from central Ubud, you'll find this popular waterfall. Here you can swim in the pool or enjoy the beautiful scenery of the natural rocks. This waterfall itself has a wide and gentle flow, so you should be careful when taking photos.
Tukad Cepung Waterfall
This waterfall is located inside a wonderful cave. If your timing is right, you'll see the sun shine into the cave. Such an instagram-worthy waterfall that should be on your feed!
Nungnung Waterfall
NungNung Waterfall is one of the tallest waterfalls in Bali. It also has powerful flow and takes about 20 minutes to walk down over 600 stairs. This waterfall is a bit more challenging than any waterfall in this list, but it all pays off with the majestic waterfall with stunning views.
9. Rafting in Ubud
There are many outdoor activities in Ubud that provide the perfect opportunity for thrill-seekers and those who are more laid-back. Rafting is one of these activities. This activity involves paddling or riding on an inflatable raft through a rushing river, and finishing strong with teamwork skills.
Three of Bali's most popular white water rafting locations are the Ayung River, the Telaga Waja River and the Melangit River. Each place has its own pros and cons among visitors. With a few more advantages. Some of the famous places that offer Rafting experience in Ubud such as Ubud Rafting Adventure, Bali Bintang Rafting, Toekad Rafting, BMW Rafting, and many more.
10. Swing in Ubud
If you want to take a fun photo and experience Ubud's epic, lush green environment, then swing by the Balinese Swing. The Balinese Swing offers the best Instagram opportunities in Ubud. Swing by for the ultimate thrill and epic great time! Here are some of the best spots to Swing in Ubud:
Aloha Ubud Swing
Aloha Ubud Theme Park is located only 6 Km from the heart of Ubud. You can wear your favorite outfit and swing as high as you can with spectacular rice paddies of Ubud as your background. Once you've taken enough breathtaking shots and selfies, you can also visit the Subak Museum to learn about Bali's agriculture. Before the end of the day, visit the Aloha Ubud coffee plantation and enjoy a cup of coffee or tea.
Tegalalang Rice Terraces Swing
Tegalalang Rice Terrace Swing has two swings. One is in the rice terrace near the road and another one is much higher on the far side of the rice terrace. For the photos, the second swing is much better to give the flying effect and perfect shots. This destination opens daily from 08.00 to 19.00.
Bali Swing
Ubud jungles, deep canyons, and rice terraces as you swing 10 meters into the air is the main highlight of the original Bali Swing. You can take tons of enviable shots in their most 'Insta-famous' spot.
11. Ubud Rice Fields Walk
Bali has many rice fields, and they can easily be found along all the narrow pathways in Ubud. One of the most popular places to see is Tegalalang Rice Terraces. It's close to the village of Ubud, which is a popular photo and Instagram spot. You don't have to look far, but some of the most beautiful rice fields and walkways are a bit hidden.
The Campuhan Bridge Walk
If you are looking for an easy but long track of rice terrace adventure, you should come to Campuhan Bridge Rice Terrace. This site has a 2 km distance walking path that is primarily used for hiking, walking, and running. It has a stunning lush rice terrace where you can enjoy the panoramic tropical foliage of Ubud.
 The Sari Organik Walk
The other famous rice terrace walk other than Campuhan Bridge is Sari Organic Rice Terrace. This rice field walk is located only 15 mins from the Ubud art market. It has a narrow path but a mostly flat track if compared to the Campuhan Bridge walk.
 The Tegalalang Rice Terrace
You might be familiar with Tegalalang Rice Terrace as the most famous rice terrace in Bali. This stunning emerald-green field worked by local rice farmers is also a part of the Cultural Landscape of Bali Province UNESCO World Heritage Site. Tegalalang Rice Terrace is located 19 minutes away from Ubud and situated at 600m above sea level that make this location has a cooler temperature.
Penestanan Rice Field Walk
The Penestanan Rice Field Walk is still a hidden gem if compared to Campuhan Bridge Walk and Sari Organik Walk. It has calm and quiet pathways, where you can enjoy the beautiful rice fields as far as your eye could see.
12. Visit Art Gallery & Museums in Ubud
The talented artists of Ubud have captured the attention of countless people. There are many galleries and museums in Ubud to see art. Some of these places are the Blanco Renaissance Museum, the Agung Rai Museum of Art (ARMA), and Neka Art Museum. The Blanco Renaissance museum showcases the works of the artist in his own home overlooking the lush tropical jungle. ARMA is a museum that displays various collections from famous and contemporary artists from all around the world. Here are some of the must-see Art Galleries and Museums in Ubud:
Museum Rudana
Built by one of the famous artists in Bali I Nyoman Rudana, This museum is located in Peliatan, Ubud. This museum is developed with a comprehensive paradigm of the profane philosophy Tri Hita Karana. Where each building in the museum has the symbol of human devotion to God the mighty creator.
 Blanco Renaissance Museum
Blanco Renaissance Museum is the home gallery and studio of the fabulous Maestro Don Antonio Blanco. Located in the lush valley of Campuhan, Ubud. This museum houses the paintings, poetry and collages created by Blanco and Mario, his son. Here you also will find a gift shop and a Cafe.
 ARMA Museum
TheARMA's Museum is reflecting the philosophy of balance among man and the environment. This museum blends tradition, Art, Culture, and Architecture. The main goals of this museum are to collect and preserve the art of painting, sculpture, dance, music, and various other cultural art forms. Some of the collections range from traditional to contemporary art.
 Neka Art Museum
Neka Art Museum has several buildings patterned traditional Balinese  Architecture where all the collections by Balinese, other Indonesian, and foreign artists are displayed. This museum is inspired by the natural beauty of Bali life. Neka Art Museum is open daily from 9am to 5am.
 Museum Puri Lukisan
Puri Lukisan Ratna Wartha Museum or well known as Museum Puri Lukisan is one of the oldest art museums in Bali. This museum specializes in traditional modern Balinese wood carving and paintings. Located in Ubud, Bali Museum Puri Lukisan has 4 buildings that are home to the finest collection of Balinese paintings and wood carving art. This museum opens daily from 9 am to 6 pm.
13. Kecak Dance Show in Ubud
Ubud is a cultural centre famous for its dances. One of the most famous dances is the Kecak Dance, a dance, music, and drama troupe performed by men and boys from the local community. Developed in the 1930s in Bali, the Kecak Dance is a form of Balinese Hindu dance and music that takes place at the amphitheatre in Ubud starting at 7:00 pm. You can easily find Kecak Dance in Ubud, some of the best yet famous locations to watch Kecak Dance shows in Ubud such as Pura Dalem Taman Kaja, Dalem Temple Ubud, Taman Sari Temple and Padang Kerta Temple.
14. Visit Traditional Market in Ubud
Ubud is known as the cultural centre of Bali because it has some of the most beautiful sights of Balinese traditional culture. The Ubud Art Market has everything for the artsy shopper. souvenir shops, art shops, and traditional markets are all available. It's the best place to go shopping for accessories, paintings, and souvenirs. Situated right in the heart of Ubud, the market has 2 buildings and one long street where the vendors set up their shops. Here you can easily find all kinds of Bali's traditional arts items, perfect souvenirs to give family or friends. Usually open from 6am until 6pm in the evening. Come early in the morning and you can get the best deals from the shops!
15. Fine Dining in Ubud
Ubud is full of exciting restaurants that offer the best in fine dining. Whether it's a sophisticated dinner with drinks and canapes or a sensory journey with an exquisite degustation menu, Ubud has it all. Apéritif Restaurant & Bar is one of those restaurants set amid a lush jungle valley with an award-winning restaurant that offers a culinary journey that goes beyond the simple view of a bygone era with a top-quality eight-course degustation and eclectic global cuisine.
The cuisine itself is made from high quality organic farms in Bali and their own greenhouse. Chef Nic Vanderbeeken created a sophisticated cuisine that was inspired from Asian and European cultures. Such a fine dining experience not to be missed!
The cuisine in this restaurant is made from the highest quality organic farms around in Bali, and also their own greenhouse. Apéritif's Executive Chef Nic Vanderbeeken, has created a sophisticated menu that is inspired by not only Asian but also European cultures. This is a fine dining experience you are not going to want to miss!
16. Luxury Hotel in Ubud (Viceroy Bali)
Ubud is one of the most popular destinations in Bali, meaning finding lodging will be a breeze. You can stay at guesthouses or luxurious resorts such as Viceroy Bali, a family-owned and operated 5-star Bali resort. Located only a 5-minute drive from Ubud, guests can feel and regenerate their connection with nature in this private retreat. Lembah Spa offers a comprehensive menu of holistic treatments and rejuvenation.
Viceroy Bali has a pool that is surrounded by a jungle ravine and villas that offer privacy.  Every detail of this tropical haven has been carefully assembled to give guests an extraordinary expression of luxury.